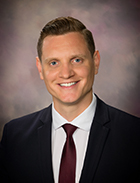 Dr. Sebastian S. Wilk - BC Rheumatologist
Dr. Sebastian Wilk is thrilled to return to western New York to bring his expertise in Rheumatology to the Southern Tier and community of Olean. Originally a native of Canada, Dr. Wilk graduated with Honors in Kinesiology and Health Sciences from York University in Toronto, Ontario, Canada and attended Saba University School of Medicine for his medical doctorate. He found a new home in western New York and completed Residency in Internal Medicine at the Jacobs School of Medicine at SUNY Buffalo, where he realized his passion for Rheumatology and an acute need in the community. He went on to complete Fellowship at the Louisiana State University Center of Excellence for Arthritis and Rheumatology in Shreveport. He received specialized training in diagnostic and interventional musculoskeletal ultrasound through the Ultrasound School of North American Rheumatologists (USSONAR) and is accredited by the American College of Rheumatology. He is board certified in Rheumatology and is also a Certified Clinical Densitometrist.
Dr. Wilk's office is on the second floor of Olean Medical Group, 535 Main Street, Olean. He is in AREA A on the 2nd floor and his phone number is 716-376-2223.
Rheumatology is a subspecialty of Internal Medicine encompassing a spectrum of diseases often involving pain, inflammation and autoimmunity.